【Troubleshooting】
●I never received an email confirmation
- Have not yet received email order confirmation just purchased Pupuru wifi via online.
It will be sent automatically, but in some cases it will be blocked or not delivered due to security or setting email on the customer side.
The order completion message must to be showed if the order went through alright; this means your order has been all set without problems.
When you not have the order confirmation email, please pickup at the Airport counter under the recipient name that you did input on order form (In case hotel, the device will be delivered under this name).
PS) we send the device to the airport counter, if you could not pickup at the counter under the recipient name (or order ID), the order via online may not have completed successfully.
●wifi connection problems
- When you can not connected to the WiFi / Internet.
Please reset the device according to the instruction provided with wifi.
1. Power on Wi-Fi router in advance.
2. Press & Hold Reset Button with a fine-tipped object for five seconds or more to reset settings to defaults.
Then you will be see the operation message on the display of the device.
*Do not Press Reset Button strongly. May cause damage.
**RESET button
Hi-speed plan
**
Remove back cover of the device,
a very small reset RED button you may find.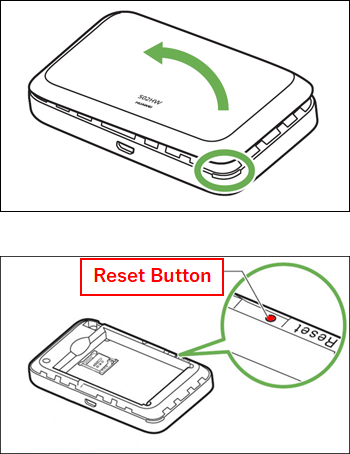 **RESET button
Broadband coverage plan
**
A reset button on the side of the device body.

---